By Nicole Achtymichuk, Curatorial Assistant at Legacy Art Galleries
During the summer of 2019, while interning at the Legacy Art Galleries, Camille Haisell and I co-curated a micro-exhibition on Buddhist art in conjunction with the AGGV's In the Present Moment: Buddhism, Contemporary Art and Social Practice A Research Convening. The show ran from October 5 through December 21 in the Fine Arts Building at the University of Victoria.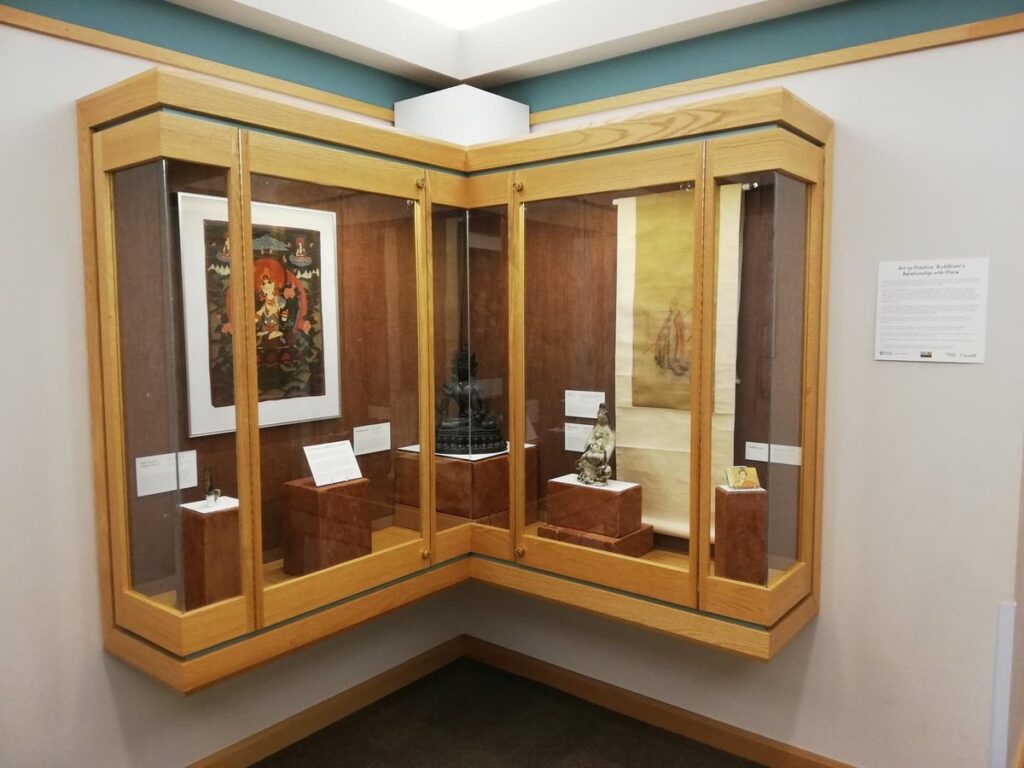 Our micro-exhibition, titled Art as Practice: Buddhism's Relationship with Place combines historical Buddhist art from Asia with contemporary Buddhist-inspired art from Canada's West Coast. It highlights the relationship between place and Buddhist expressions in art, and illustrates that the creation of Buddhist art is not just artistic expression, but also a form of religious practice.
This small exhibition takes a critical approach to curating a colonial assemblage of Asian art. With this show, we worked to move away from colonial museum practices with the goal of challenging Orientalist representations of Buddhism.
Below, we want to share some of the thought-provoking things we have learned about Buddhism through studying and curating in the Legacy's collection.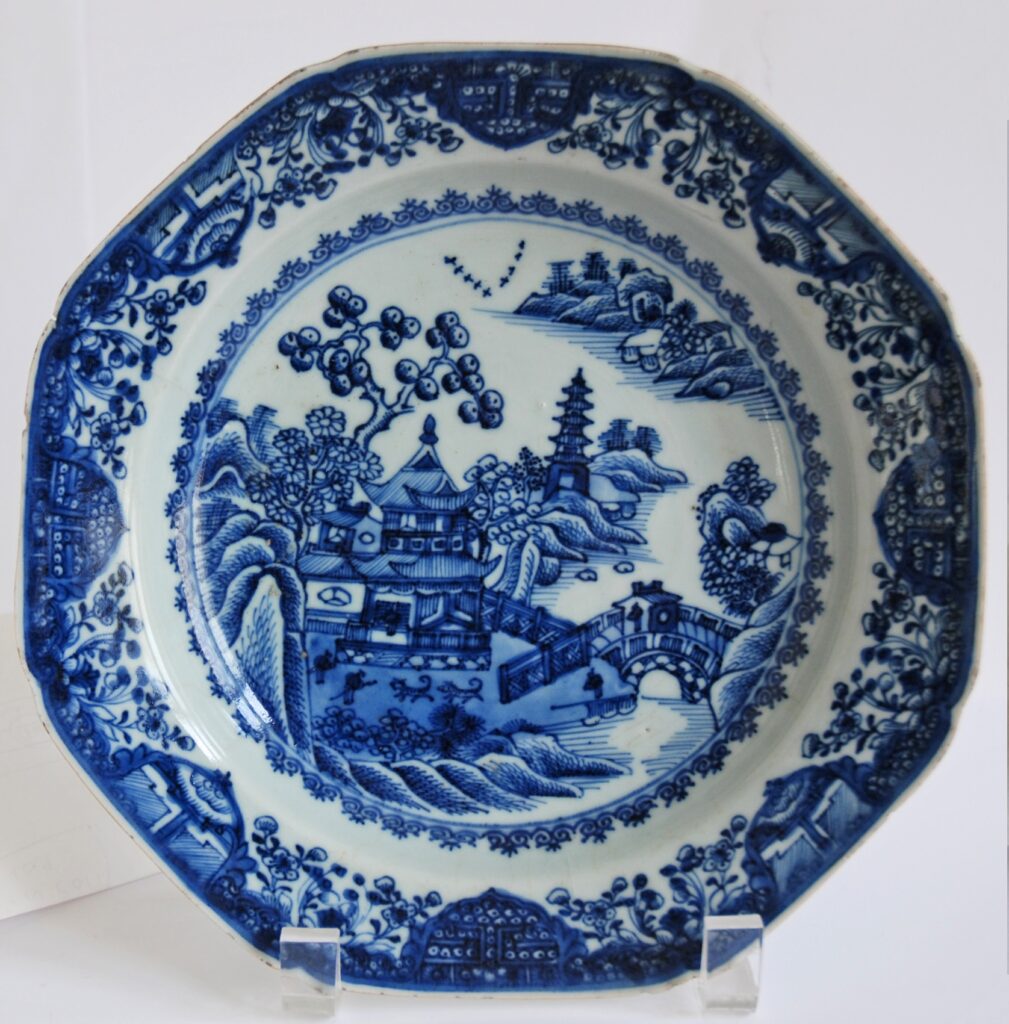 Unknown artist, Plate with Pagoda and Stupas, n.d. Gift of Sydney W. Jackson, University of Victoria Legacy Art Galleries.
This plate was surprising, as at first glance it appears completely unrelated to Buddhism. However, upon closer inspection we noticed that there are two different structures that relate to Buddhism – the stupa and the pagoda.
A pagoda, which is a form of Buddhist temple, stands tall in the background of this scene. These multi-tiered towers emerged from Indian commemorative monuments called stupas, which are dome-shaped religious buildings that actually predate Buddhism.
Stupas circle the rim of this Chinese plate. Stupas are important in Buddhist architecture and can symbolize the Buddha, the path to Enlightenment, and the universe simultaneously. Here, Buddha is represented through structure and shape rather than through human form, illustrating the connections between Buddhism and place.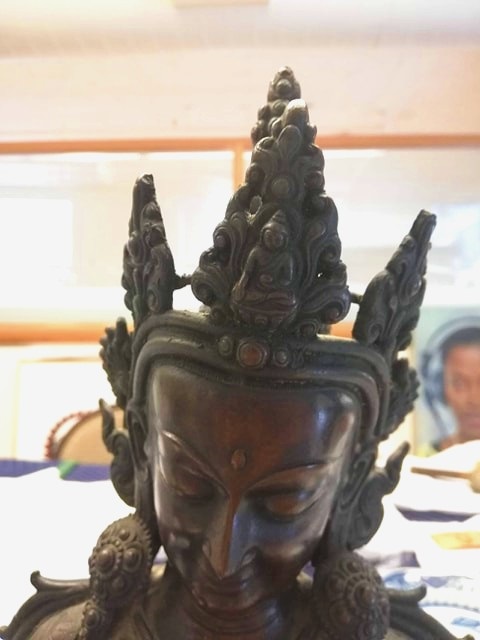 Unknown Artist, Avalokiteshvara (detail), 15th Century. Gift of Mrs. Marie Antoinette O'Hare, University of Victoria Legacy Art Galleries.
This is a statue of Avalokiteshvara, an enlightened being who represents compassion and mercy. Avalokiteshvara is a Bodhisattva, who is a being on the path to becoming a Buddha, and has instead chosen to postpone their Awakening to help others achieve it.
Buddhist iconography can be incorporated in unexpected ways. In the centre of Avalokiteshvara's crown sits the small Buddha Amitabha – revered as one of the five "self-born" Buddhas that have existed eternally. Avalokiteshvara is the earthly manifestation of Amitabha. This Buddha can be distinguished by the mudra, or hand gesture that he is expressing. Here, Buddha Amitabha is seated in the Dhyana mudra with a begging bowl in his left hand.
Originally, this depiction of the Bodhisattva Avalokiteshvara would have been gilded and painted, and likely been housed in a Tibetan temple altar. Before the figure was consecrated, a spiritual teacher would fill the statue's hollow body with rolled mantras and other sacred items.
The diverse depictions of Buddist art exemplify how Buddhism is a multifaceted religion that has spread through cultural exchange. Art has served to transmit Buddhist ideas, teachings, and artistic design throughout the world. No matter the origins of Buddhist or Buddhist-inspired art, be it Tibet or Coast Salish territories, all are given new meaning by being here, together in this place.
Feature Image: Unknown artist, White Tārā (detail), 20th Century. Gift of Dr. Bruce L. and Mrs. Dorothy E. Brown, University of Victoria Legacy Art Galleries.
Art as Practice: Buddhism's Relationship with Place | October 5 – December 21, 2019 | Curated by Nicole Achtymichuk and Camille Haisell, University of Victoria Legacy Art Galleries | University of Victoria Fine Arts Building, main floor