With the recent opening of To Talk With Others, organized by the Yukon Arts Centre, the AGGV Collections team shares fresh insight on the installation process of a travelling exhibition.
According to Stephen Topfer, AGGV Manager, Collections and Exhibitions (pictured below documenting the exhibition), travelling shows come with wonderful opportunities and frequent challenges. Since these shows are usually designed for newer and larger venues, they will occassionally require a major redesign for the Art Gallery of Greater Victoria location.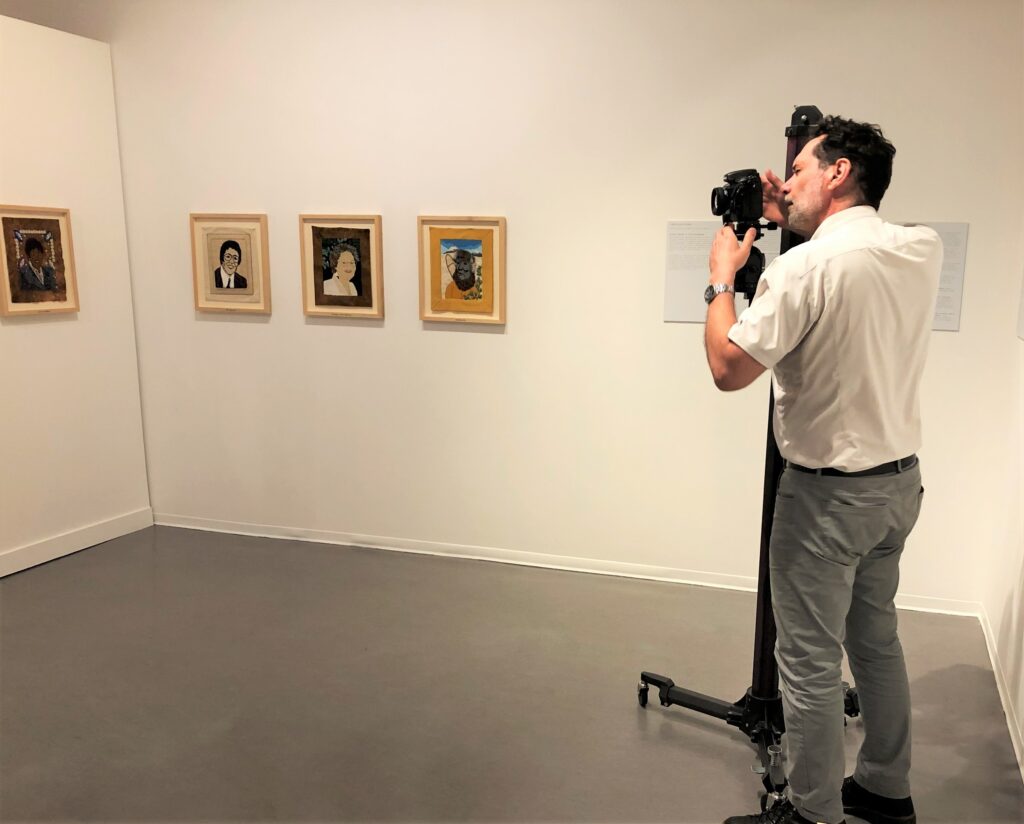 "For example, these changes can be small or large depending on the show, and often the flow of visitors throughout the space is different than the original venue which can influence the experience of the art significantly. Our ceiling height restrictions and door openings are pretty obvious examples of restrictions that need to be considered when modifying an exhibition but other, less obvious factors which come to mind, include our freight loading abilities, the freight elevator capacity, HVAC systems and electrical systems. These elements are all part of the mix when successfully planning for and installing a travelling exhibition."
Topfer also adds that when working with visiting artists and curators on travelling exhibitions, the key is to communicate openly and frequently to ensure the end product has the desired look and feel and the visitor experience that guests will enjoy.
On the topic of working with other organizations throughout the installation process, AGGV Preparator, Rosemary Kemp, notes that the experience is "always a rich and unique". New member of the AGGV Collections team, Preparator/Technician Ali Kahn, offers his insight on installing his first travelling show at the AGGV:
"Going into this project I was most excited to learn from the Yukon Arts Centre's visiting installation team. Mary Bradshaw was an invaluable technical resource and a brought fascinating context to the work. I was really proud of our whole exhibition team, Rosemary, Stephen and volunteer Graham, for collaborating to install the show on a tight schedule.
There are unexpected moments of satisfaction and challenges during any install. Opening the crates to discover the vibrant components of Lianne Charlie's 'Bull's Eye' (featured below) was something I looked forward to from the outset. This piece took all 4 people to assemble and with Mary carefully applying the finishing touches."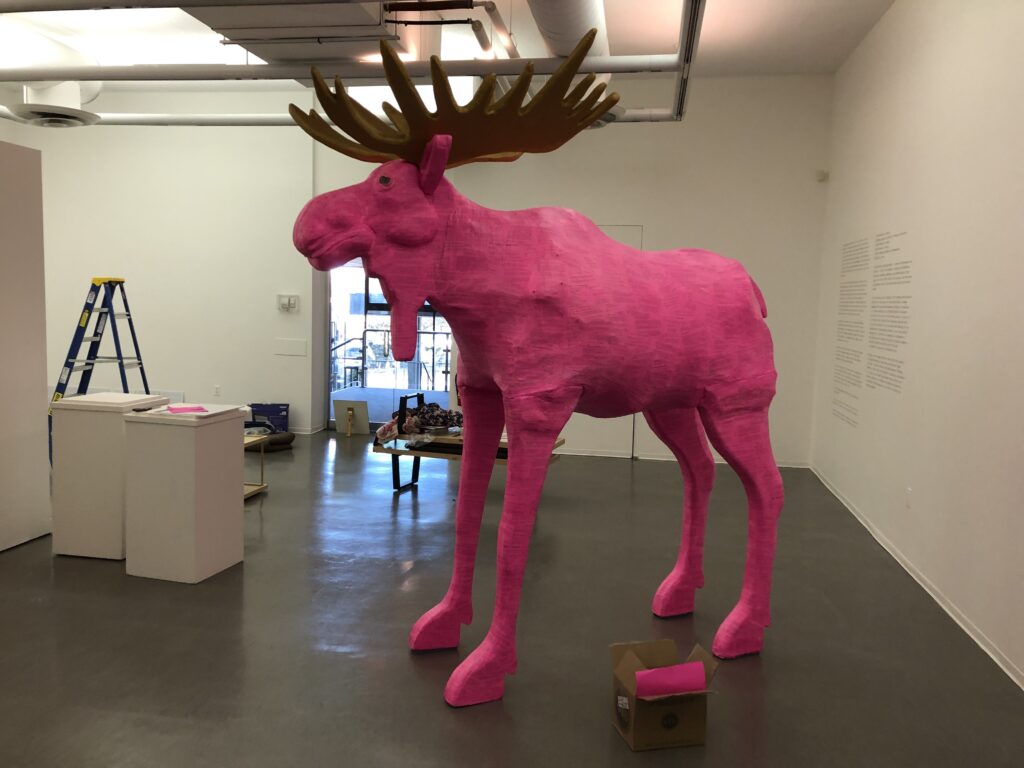 Kahn also adds: "Following Stephen's lighting of Ken Anderson's 'The Mosquito Becomes Me', we noticed an unexpectedly playful shadow jump up behind the mask. This show holds important and sometimes heartbreaking subject matter, so these moments of lightness help balance the installation experience for me."
There was a lot of anticipation leading into this install, and I'm really grateful to be a part of presenting it here at the AGGV."
To Talk with Others, coordinated by Mary Bradshaw and Valerie Salez, responds to the minutes of a meeting in August of 1977 between Prime Minister Pierre Elliot Trudeau and five Yukon First Nations leaders regarding the then-approved Mackenzie Pipeline. Held in the Tr'ondëk Hwëch'in archives, this document illustrates the ongoing dichotomy of two opposing cultures and ways of understanding economic, social and cultural development with the land and its inhabitants.
Through a diverse range of media, Yukon artists Ken Anderson (Tlingit/Scandinavian), Lianne Marie Leda Charlie (Tagé Cho Hudän | Big River People), Valerie Salez (1st Generation Canadian), Doug Smarch Jr. (Tlingit), and Joseph Tisiga (Kaska Dene) activate this archival document and ultimately continue the conversation surrounding self-determination in the face of federal and corporate agendas. Exhibition runs until Feb 23 2020.