By Sherry Willing, AGGV Education Coordinator
Using Art as a Stimulus for Writing: Young Writers Summer Workshop, a learning camp for high school aged youth, ran the second week in August in collaboration with the University of Victoria Writing Department. Annabel Howard, a professional writer, and University of Victoria Writing Instructor, led this creative group of young writers.
It's easy for me to get excited about the combination of art and writing because I'm passionate about learning and developing strategies that make learning accessible to anyone.  So when Annabel Howard and I sat down to plan, we immediately saw the link between our two worlds.  Composing is extremely challenging.  Writing fictional accounts is extremely so!  But, writers and artists both guide a viewer/reader to make meaning. Using art to begin writing is easier because there is a specific place to start!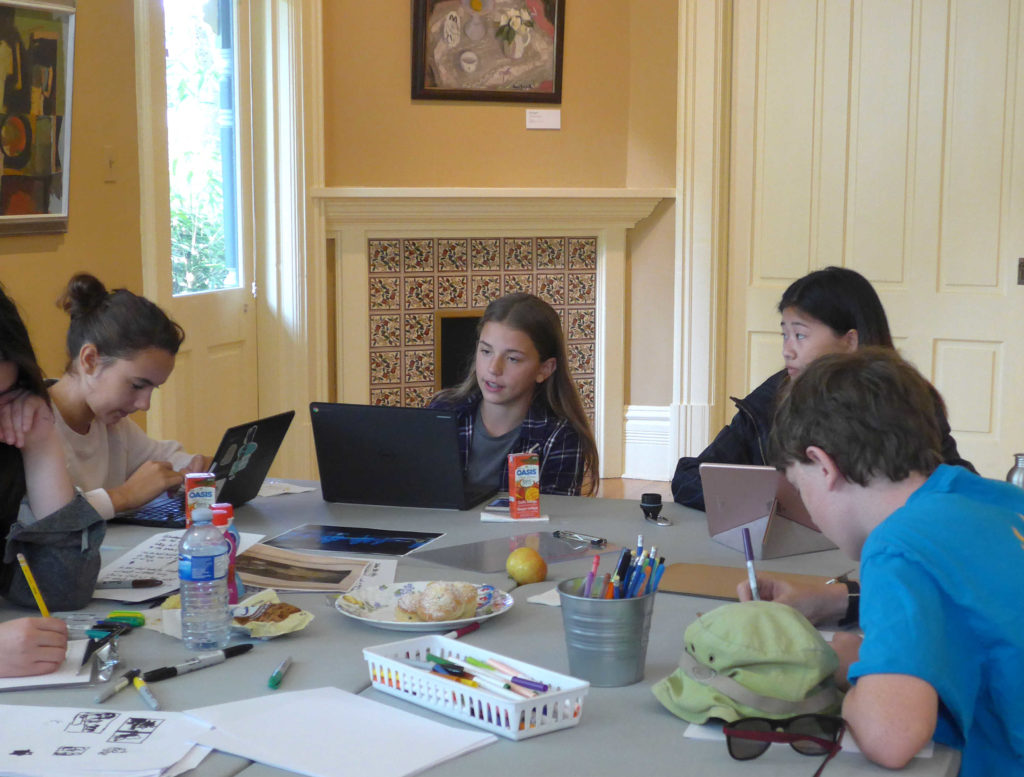 What if we used the exhibition Supernatural: Art, Technology and the Forest, to help young minds focus on something in concrete form?  What if we were to use the photographs to help students see how an idea can be expressed?  What if we helped them to see that visual artists use key details in an organized way that lets them communicate an idea or a story in a similar way that writers use details and pattern and structure to create a story?
The results were amazing!  Using a process of "See, Describe, Wonder" as we sat in front of a photograph in the exhibition, participants began to notice and describe the specifics in the art and then begin to infer, apply and extrapolate. Participants chose a photograph they liked from the exhibition then Annabel created short writing tasks that mirrored these activities.  She simplified story writing to its essential parts: see, describe, wonder.  "Story writing is really just a character doing something in a place."
All Day Writing For Youth: A Workshop Collaboration With UVic will take place October 6 and November 17, 10:30AM – 3PM | For registration information, contact Sherry Willing at swilling@aggv.ca.
Here are excerpts of writing produced by the youth in a 20-minute exercise and the photographs that inspired their compositions: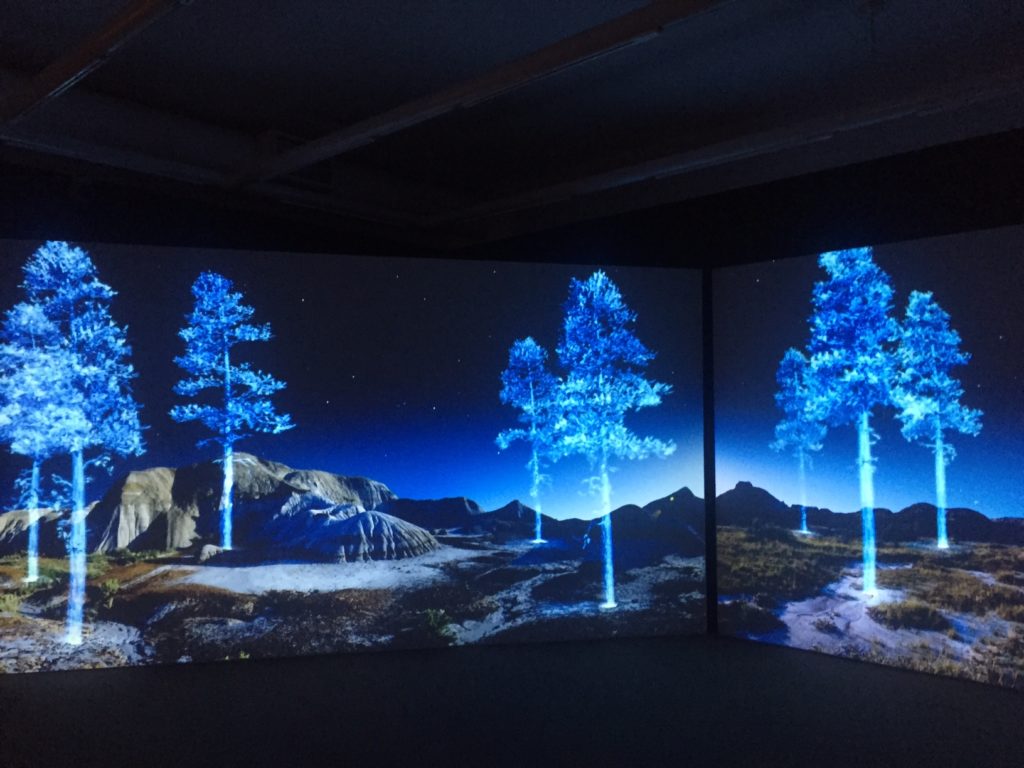 Imagine. Imagine the wind blowing through your hair as you traverse the snowy landscape. Vengeance on your mind, snowflakes on your clothes.
Imagine. Imagine you climb over mountain ranges and run from wolves. The payoff will be worth it, you yell yourself.
Imagine. Imagine the wind stops blowing, only for a second. You close your eyes. When you open them, all will have changed.
There is no more need to imagine. Because what you see is stranger than any fiction your crooked mind could cook up.
Spectral trees wave in the breeze….
(Thunder D.)
Above the sprawling fields, the sky was a deep navy blue. Wind whipped the pines and shook the farmhouse shutters. Beyond the horizon, a storm was fast approaching, its dark clouds promising rain. Isabelle's parents were locking in the animals for the storm. From her bedroom window Isabelle watched on anxious, she wasn't fond of the idea of going out in this weather, but it had to be done. Across the field, the McKenzies' lights flickered on. All her neighbors were already inside their heated homes. When her parents finally come in as well it would be time to go and face the forest to retrieve what she had stolen.
(Anonymous)

Chance felt the breeze of freedom as he pranced through the front door and into the road and Julie screamed for him to come back. For a second he faltered, but the smell of the forest greens and dirt enticed him to keep going. He ran past the fence surrounding the house and he disappeared into the trees. He heard his name being called but he was hooked on nature. He was finally free.
After a couple of hours, he became bored. He had fully wandered the forest and the neighborhood one street down so as any good, loyal dog would do, he started to make his way back.
He heard the sirens before he saw the house. He didn't know exactly what they were, but he knew something was wrong. The deafening scream pierced his ears but he kept going…
(Jessica I.)