This past fall/winter season was as inspiring as it was informative. In September, we launched a Partner School Inquiry (as part of our education programming) and established learning partnerships with Selkirk Montessori School, the Pacific School of Innovation and Inquiry and Stelly's High School. This program involves ongoing dialogue and collaboration with Partner School students, teachers, and Gallery Educators. Taking place at the Gallery over several months, we focused on learner-centered inquiry, with guiding questions such as: "Who makes art? Who decides if it is good art? Who is denied or left out of this process? How can art contribute to meaningful change?"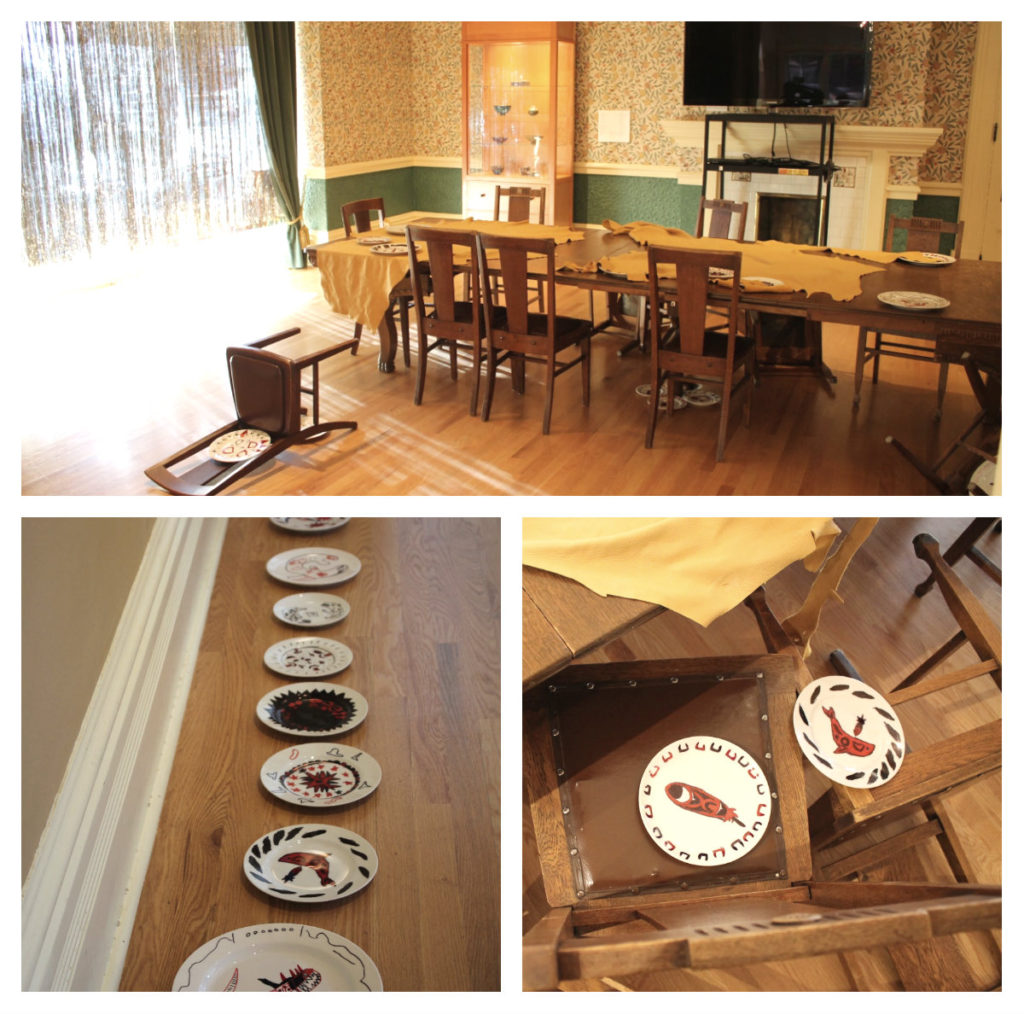 In conjunction with It's in the Making exhibition – featuring a group of artists with a connection to the west coast – we introduced Nicholas Galanin, Tlingit/Unangax, and the Bomford family to students at Selkirk Montessori. We were honoured to collaborate with Butch Dick, beloved Songhees elder and artist, Tasha Henry and grade 3-4 teachers and students, who explored the art installations on exhibit, interviewed the artists and created their own installation piece (pictured above). It's truly inspiring to see young learners exploring big questions about Canada's relationship with First Nations, Inuit and Métis people, with ample heart and authenticity.
"Art installation as social intervention felt like the appropriate vehicle to explore the children's emerging awareness and questions around the difficult history of residential schooling in Canada. As teachers we are in the unique position to respond to the Truth and Reconciliation Commission of Canada, "Calls to Action" in ways that model sensitive and historically respectful approaches to Canada's shameful investment in residential schooling. Rather than approach this work as a prescriptive curriculum, we approached the concept of reconciliation as a process of responding to the ongoing impacts of colonialism on Indigenous communities. It was important to us that the children's work around redress be responsive, multi-voiced and open ended." – Tasha Henry, Taking a place at the table: Art as Intervention in a Time of Reconciliation.
Interviews with Students – Art as Intervention (Dec 2016) by Tasha Henry:
Q. What was meaningful to you about this project?
Eli: We honoured the children who didn't get to eat with their parents.
Natasha: It is sad because people were in residential schools and they had to be or else they would just get taken away by the government.
Tovah: I liked this project because I liked how Monique Gray Smith shared everything with us and took a lot of her time to teach us. We also learned about "Whale Child" from Carol Simpson.
Vivian: The experience at the Art Gallery felt different because not many people get to make art installations.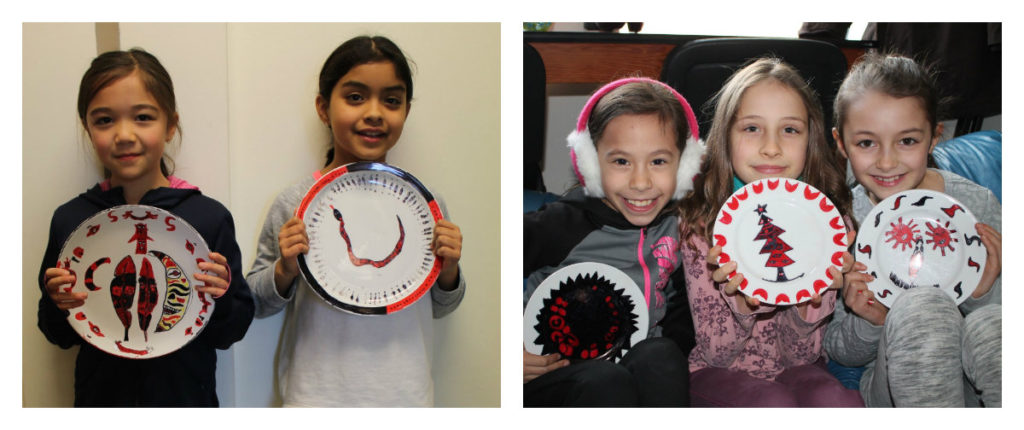 Natasha: And not many people get to eat at the table. The children didn't get to sit at the tables with the adults. The children would make their own language to communicate.
Peyton: It is good to know what happened before in history before we came.
Rhys: I learned about the residential schools and that they took people away from their families. It was fun doing the trip to the Gallery. I liked meeting all the First Nations people who came into our classroom. I like the symbols in my drawing and the black and red colours on the white plate.
Garnet: This history is true and sad. I am happy we did the installation and it is always fun to be on the news. Five people chose to put their plates in the corner of the installation because the table was too loud. The reason I didn't draw an Orca, is because I wanted to draw my own symbols.
Cecilia: I like the way that we actually created something that some other people didn't get to. These symbols are about what other people didn't get to do, that we can do right now. Children in residential school didn't get as much freedom as we do right now. I like the way that all the other people were trying to make a symbol on the plates in the First Nations culture, to resemble the art work. I learned that some cultures can be easy to take away but some cultures are so strong and can't be taken away. Cultures are extremely important to all people. It is really hard to think about the things that happened to First Nations, but their culture survived.
Ana: We are happy that we are the only class that actually did this and that we saw a lot of famous artists and we are lucky to see them like Nicholas Galanin, because he was a DJ and an artist and he let us see his art as he was making it. Butch Dick did the murals near Victoria Gymnastics and now I know his artwork. He is Songhees. We are lucky that we have a good school and good teachers because we don't have to go to residential schools.
Adison: I like that some people learned that not everything is for yourself you have to make things for others as well and learn about other cultures.
Cole: At the Art Gallery we got to meet a famous artist. I learned he doesn't keep his artwork. He likes to leave the installations for other people to learn from.
Jolie: I put my plate under the table because children might crawl under the table to steal the teacher's food at residential school. It was a fun experience because I like art and I liked placing my plate in the gallery exhibit.
Isabella: I put my plate under the moose hide to symbolize the children who didn't get any food. The Art Gallery was fun because I like making art.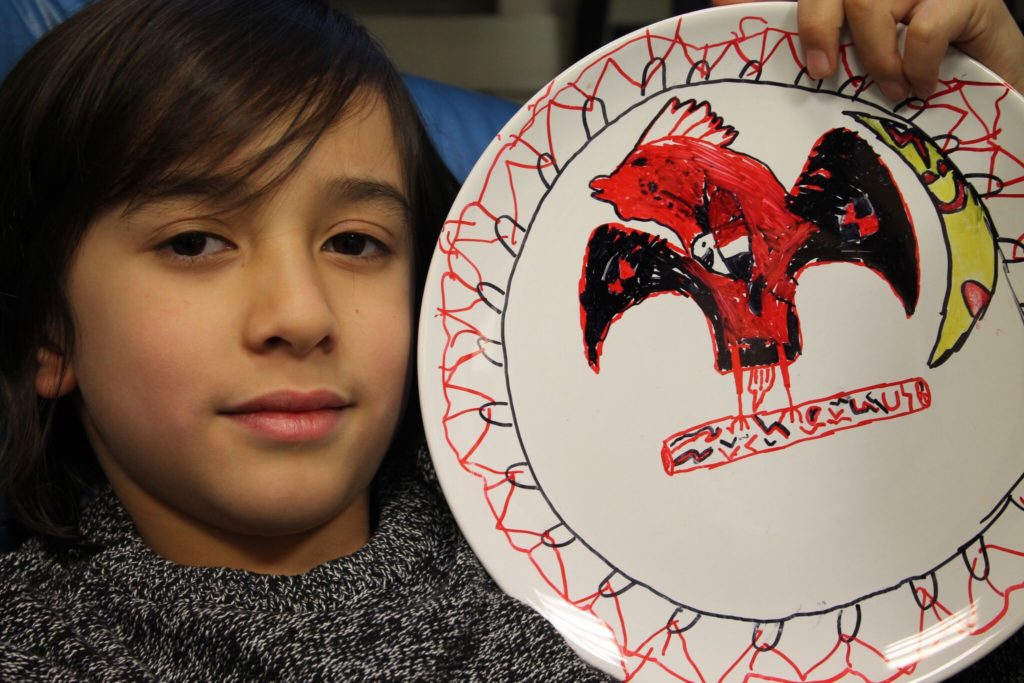 Click here to learn more about this program or to read Tasha Henry's full report Taking a place at the table: Art as Intervention in a Time of Reconciliation!