By Audrey Wang, AGGV Volunteer
Three paintings by Maud Lewis (1903-1970) were recently gifted to The Art Gallery of Greater Victoria by Frances E. Rose, a wonderful first acquisition for the Gallery of work by the renown Nova Scotian artist. All three works are painted in Lewis's distinctive folk art style with bright colours and depicting animals in landscape. They are also relatively small, the largest of this group measuring 29.8 × 35.7 cm, as were most of her paintings, limited as she was by her physical disability and eventual rheumatoid arthritis, but also limited by the small one-room house she shared with husband, Everett Lewis.
Born Maud Kathleen Dowley in 1903 in the area of Yarmouth and Acadian Shore, Nova Scotia, she was a shy and slightly reclusive child because of her birth defects. Her mother introduced her to painting and she painted Christmas cards which they sold. After her parents died – her father in 1935, followed by her mother in 1937 – the family house was inherited by her brother, Charles, with whom she lived for a short while before moving to Digby in 1937 to live with an aunt. It was there she met Everett, an itinerant fish peddler, and shortly after in 1938, they married.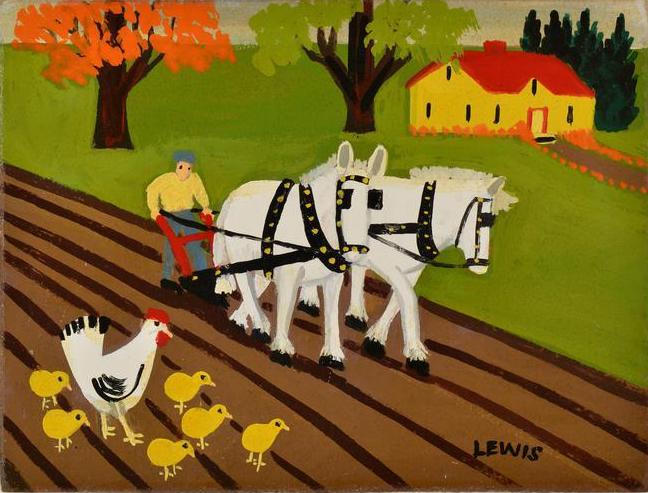 Maud and Everett lived in a tiny one-room house in Marshalltown. As her rheumatoid arthritis grew worse, Everett took care of the house while she painted, first Christmas cards which she sold, then small paintings in oil. Depicting farmyard animals and teams of oxen, deer and birds, as well as the familiar landscapes of her childhood and the village of Digby, Maud was influenced by the simple life that unfolded before her in the Maritimes. The style of naive art in which she painted her subject-matter imbued a sense of simple joy and vibrancy to all her works.
She placed a brightly inscribed "Paintings for Sale" sign outside their house along Highway 1 between 1945 and 1950, and customers stopped frequently to buy her colourful paintings and admire the small, simple house that was covered with her painting. All the surfaces – walls, doors, furniture, the staircase leading to the loft, even the stove – were covered with paintings of flowers, trees and birds. This lovingly painted house is now preserved in the Art Gallery of Nova Scotia and photos of it can be found on the Gallery's website.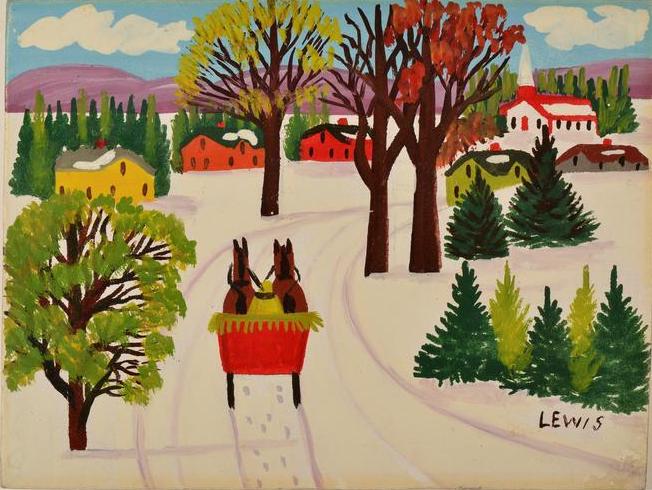 In 1964, Maud received national attention following an article about her was published in the Toronto-based "Star Weekly" paper. The following year, she was featured in a CBC-TV documentary segment of "Telescope" which profiled notable Canadians. From then on, she became a recognized artist, receiving commissions, even from the White House during Richard Nixon's presidency. Maud Lewis succumbed to pneumonia in 1970 and Everett died in 1979.
Apart from the preservation of their home, initiated by a group of concerned citizens of Digby, Maud Lewis has been recognized posthumously on numerous occasions, in commemorative honours, in books, documentaries, theatre and film. Most recently, she was the subject of the award-winning film "Maudie" (2016) starring Sally Hawkins and Ethan Hawke. For Christmas 2020, Canada Post has released special commemorative stamps featuring the work of Maud Lewis.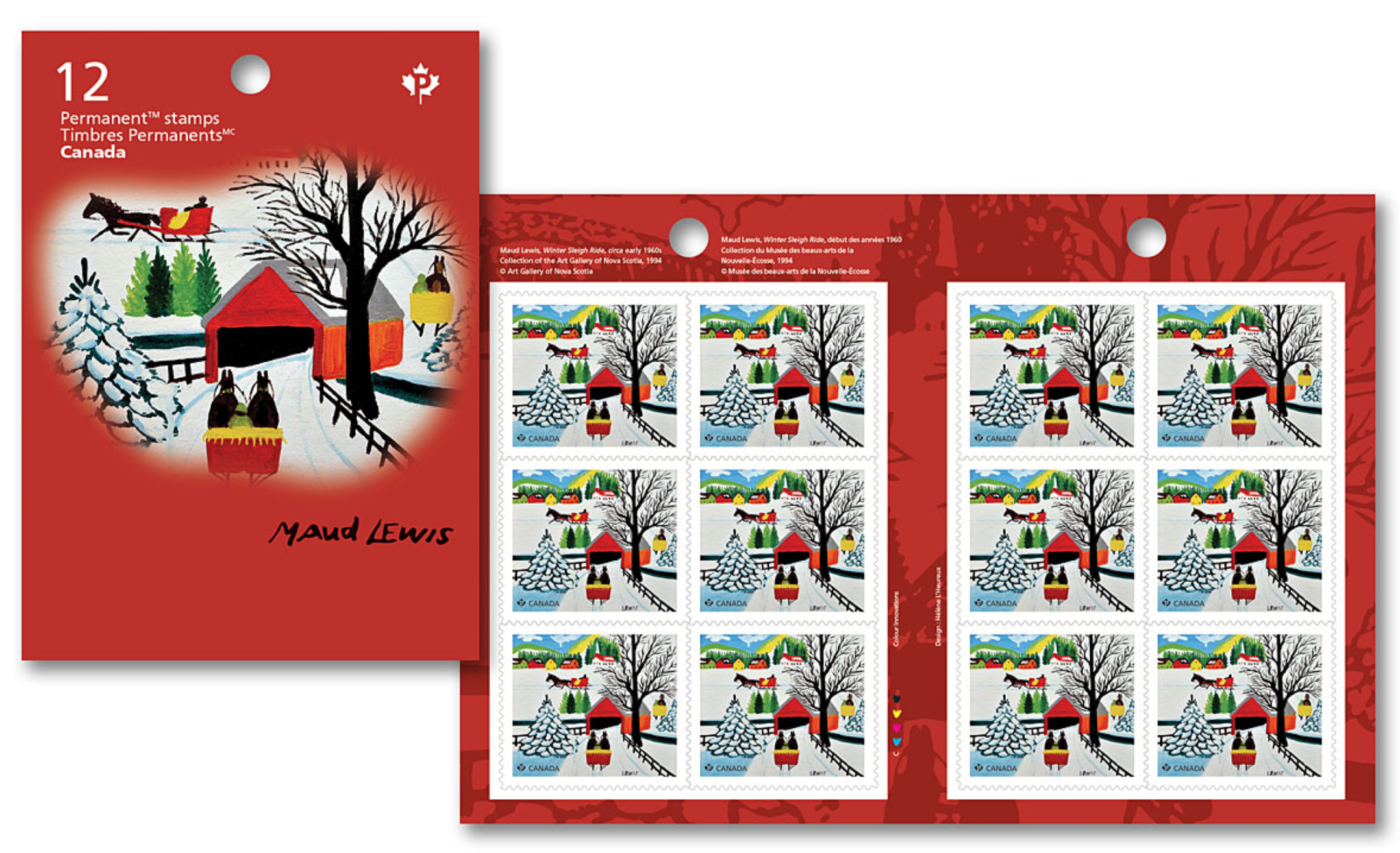 Feature image: Maud Lewis (Canadian, 1903-1970) | Untitled (Oxen) | Not dated | Oil | 29.8 × 35.7 cm | Gift of Frances E. Rose (2019.023.001)