The theme of this issue's art quiz is religious and mythological iconography. Let's see what you recall from stories you listened to as a child!
1. The serigraph above is by Canadian artist Herbert Siebner (1925 – 2003) and represents these creatures from Greek mythology that are half-human and half-horse. What are they called?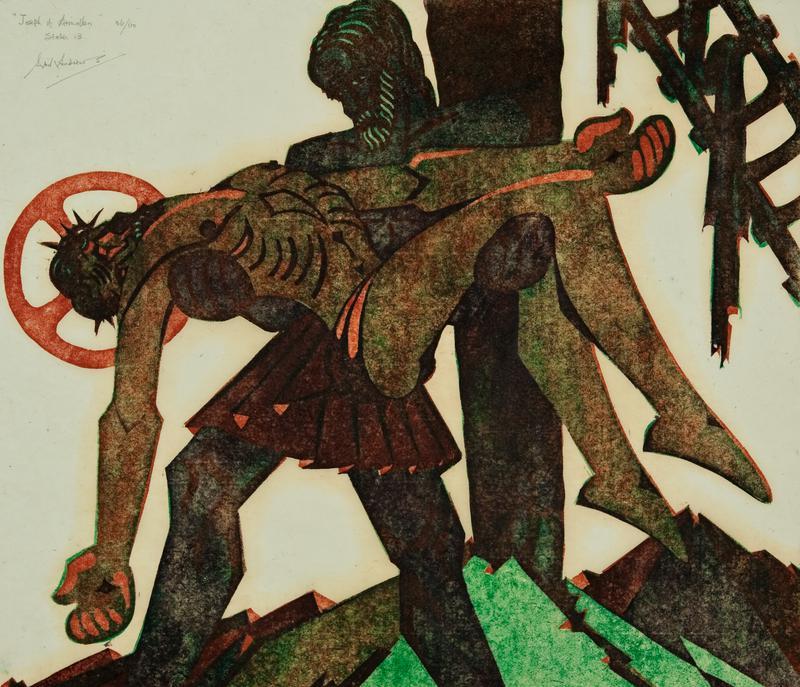 2. The linocut above is by Sybil Andrews (1898 – 1992) and depicts a well-known Bible scene of Jesus being brought down from the cross after the Crucifixion. According to the Gospels, who was the man who took responsibility for Jesus's burial and who is depicted here?
a) John the Baptist
b) Peter
c) Joseph of Arimathea
d) Judas Iscariot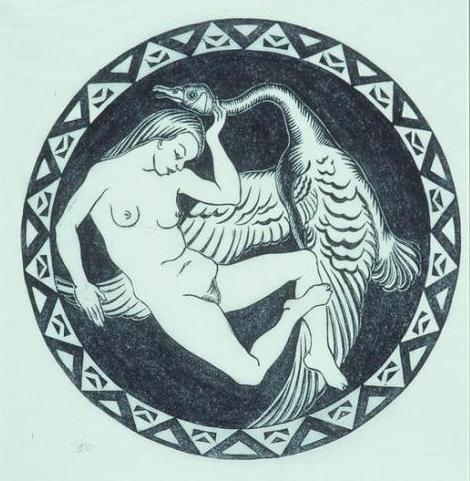 3. The linocut print above shows the Greek myth of Leda and the swan. In the story, the swan seduces Leda who bears children. The swan is a disguise. Who is the perpetrator and the father of said children?
4. One final Greek myth. At bottom left is Elza Mayhew's (1916 – 2004) sculpture named after this Greek goddess who is known as the goddess of spring growth, but also the goddess of the underworld as she was married to Hades. What is her name?
a) Persephone
b) Demeter
c) Hera
d) Aphrodite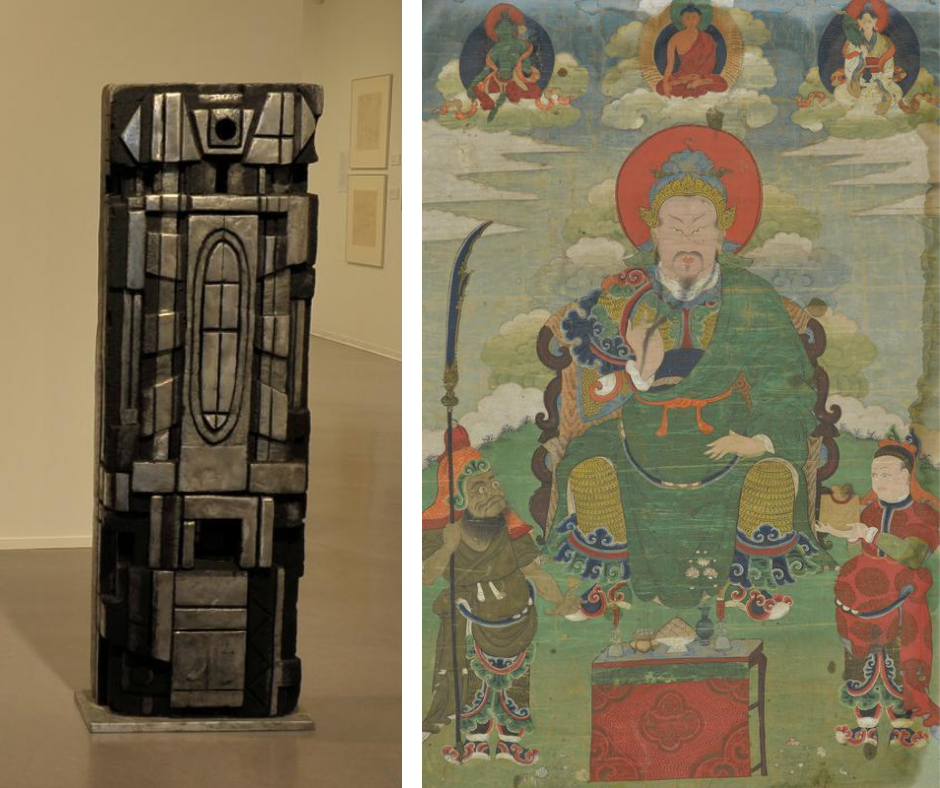 5. At top right is a painting depicting the Chinese God of War, Guandi, a very popular deity for his power and control over evil. Guandi is part of the pantheon of gods of which religion in China?
6. This delightful ink drawing by Arthur Lismer (1885 – 1969) shows a popular Old Testament tale, often recounted in Sunday School for its Biblical significance and the enjoyment of story-telling. What is this story commonly known as?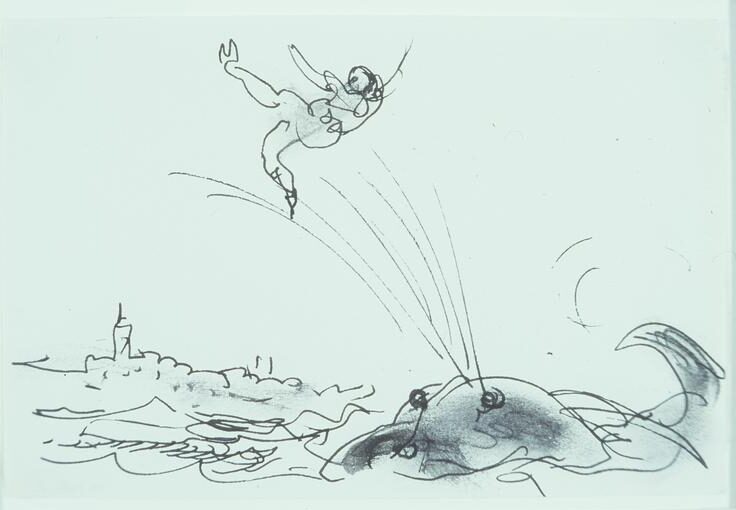 7. In the Hindu pantheon, Ganesha is the best known and the most worshipped. He is recognized by having the head of what animal?
a) Tiger
b) Monkey
c) Cobra
d) Elephant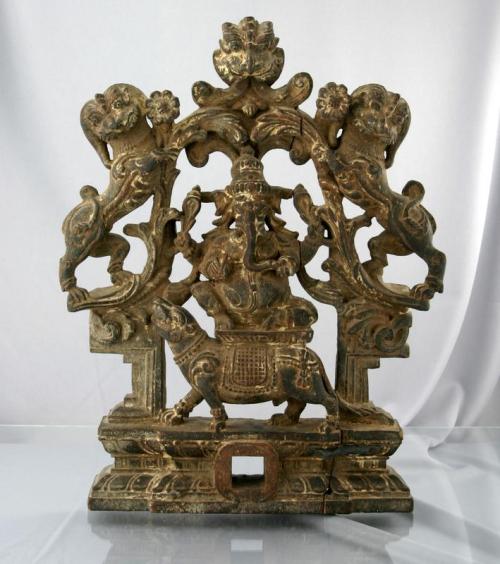 8. The legend of King Arthur and the Knights of the Round Table has been told countless times over the centuries, and is depicted here in this lithograph by Herbert Siebner. Who wrote the version of the tale of Arthur known by the title of "Le Morte d'Arthur"?
a) William Shakespeare
b) Enid Blyton
c) Sir Thomas Mallory
d) George Eliot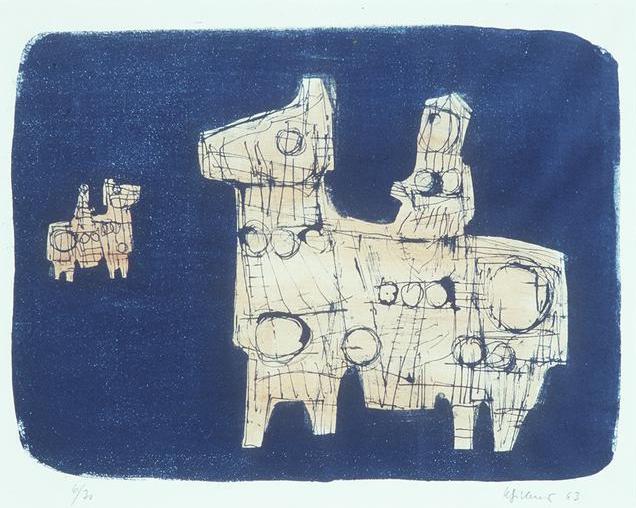 Answers: 
1. Centaurs
Herbert Siebner (Canadian, 1925 – 2003) | Centaurs | not dated | serigraph and ink | 33.1 x 50.2 cm | Gift of the Artist (1968.095.001)
2. c) Joseph of Arimathea
Sybil Andrews (Canadian, 1898 – 1992) | Joseph of Arimathea: Station XIII | 1946 | linocut, ink | 34.6 x 39.2 cm | Gift of Robert and Margaret Hucal; (c) Glenbow Museum, Calgary, 2009 (2009.034.001)
3. Zeus
Clifford Foard Robinson (Canadian, 1917 – 1992) | Leda | linocut | 33 x 30 cm | Gift of Gwladys Downes (1993.007.002)
4. a) Persephone
Elza Mayhew (Canadian, 1916 – 2004) | Persephone | 1971 | cast aluminum | 158.8 x 49.5 x 28 cm | Gift of Anne Mayhew, Morgan Price & Rhondda Price (2010.020.002)
5. Daoism
Unknown Artist | Chinese God of War Guandi | Chinese, 18th-19th century | gouache | 145 × 100 cm | Anonymous Gift, Former Parr Collection (2015.018.005)
6. Jonah and the Whale
Arthur Lismer (Canadian, 1885 – 1969) | Jonah Spewed Out of the Whale | 1967 | ink | 10.1 x 15.2 cm | Gift of Prince & Princess Abkhazi, Victoria (1974.168.002)
7. d) Elephant
Carved Wood Panel with Ganesha | Indian, no date | 33.8 x 26.3 x 4 cm | Gift of Colin and Sylvia Graham (2008.010.001)
8. c) Sir Thomas Mallory
Herbert Siebner (Canadian, 1925 – 2003) | King Arthur | 1963 | lithograph, ink | 43.7 x 54.8 cm | Anonymous Gift (1968.076.001)