The Massey Sales Gallery is proud to present Miles Lowry Breathing Spaces, a solo show and sale of the renown Victoria-based artist's new work which he created on a recent trip to his beloved Ireland. Lowry is a sound and visual artist, writer and director best known for his vibrant paintings and life-size sculptures which explore the body as an expressive canvas.
Lowry draws inspiration from nature and from his travels. Ireland, in particular, holds a special place in his heart, as here, his love of nature is fully indulged in the landscapes, providing inspiration and subject-matter for all his various mediums, from painting to sculpture. The paintings in this collection of works, Breathing Space, all possess Lowry's signature dream-like aesthetic. The paintings are luminescent and alive, the pulsing vibrancy akin to the viewer's breath as one takes in the various elements of the dreamscape.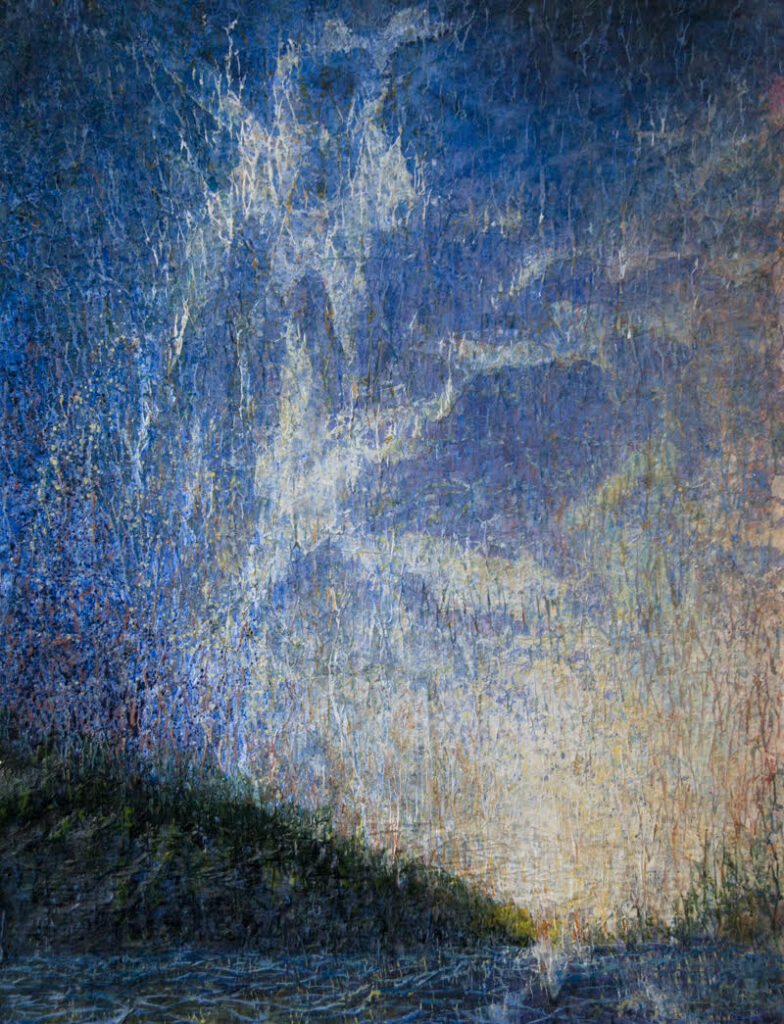 I am attracted to ways that paint can both materialise and disintegrate images and influence our perception of things… My paintings on Mulberry paper emerge through complex brush marks and atmospheric, translucent layers of drawing, spraying and under-painting.

I am fascinated by evanescence – where at a certain hour light reaches into shadow and something is momentarily exposed or a string of birds against the sky create an image for a second only.
Miles Lowry is a Canadian painter and sculptor, writer and art book designer, and photographer of male nudes and landscapes. He is Artistic co-Director, sound designer and film director with Suddenly Dance Theatre in Victoria BC Canada.
Feature image:  Miles Lowry | Skyward | 36×48 | paper pigment wax wood
Miles Lowry Breathing Spaces Solo Show & Sale | March 12 – April 12, 2020 | Massey Sales Gallery