By Jennifer Van de Pol, Educator School Family Programs
In early August the Gallery had the pleasure of exploring the Supernatural: Art, Technology and the Forest exhibition with young learners (K-Grade 5) from SENĆOŦEN LE,NOṈET SCUL,ÁUTW̱ Survival School. It was both the children and their teachers first time ever visiting the Gallery.
This was a partnership between the Gallery's Education department and professors and students in UVIC's Indigenous Education Summer Institute. The focus of the Institute was explorations of "power and privilege, social justice and empowerment."
Summer Institute students developed a deeper understanding of the impacts of settler colonialism on Indigenous peoples in Canada before visiting the Gallery. This supported the UVIC students in facilitating various hands-on, experiential, fun activities with the young learners in a mindful way. These students all have teaching practices at various schools across Canada and Denmark, and are thinking deeply about how to teach in ways that are supportive, empowering, respectful, holistic and nurturing for young ones from Indigenous and various cultural backgrounds.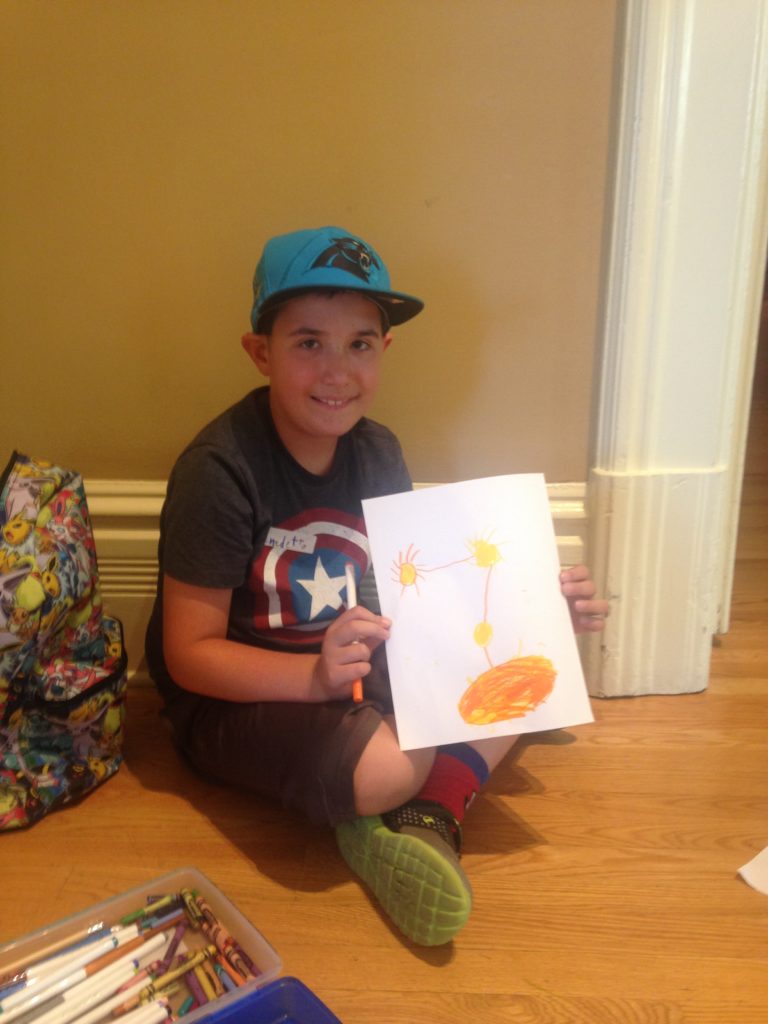 Featured above: An inspiring young leader sharing his drawing.
Summer Institute students were paired with small groups of LE,NOṈET learners and together they; explored mindfulness of breath and body in front of Kelly Richardson's The Erudition video installation, created drawings inspired by Leila Sujir's Forest Breath artwork, and created collaborative stories inspired by Trudi Smith's Drift Camera. It was touching to hear many words of SENĆOŦEN being spoken by the young ones throughout the galleries, a beautiful reflection of how the Survival School's mission is being actualized:
Our mission is to work in a life-long partnership with the Saanich People to assure the continuing use of the SENĆOŦEN language and the maintenance of the cultural identity of our Nation while giving students the knowledge, skills and attitudes as citizens to enable them to successfully meet the social economic and political challenges of life.*
Thank you to UVIC Indigenous Education professors Dr. Carmen Rodriguez de France, Dr. Anita Prest, visiting professors from Denmark, UVIC students, Jacqueline Jim, teachers and bus driver from LE,NOṈET for this partnership and all of the good energy you brought to the process. And of course to all of the LE,NOṈET young ones…we were truly inspired by learning with you!
*SENĆOŦEN LE,NOṈET SCUL,ÁUTW̱ Survival School website. 
Jennifer Van de Pol is the AGGV's Educator of School and Family Programs. She reflects daily on what an honour it is to live, work and play on these beautiful Lkwungen lands (Victoria.)
As part of the AGGV's ongoing learning around how to be a place where more and more people feel welcome, admission is complementary for Indigenous peoples.
Feature top image:  UVIC Indigenous Education Summer Institute students with LE,NOṈET young ones in Supernatural: Art, Technology and the Forest.